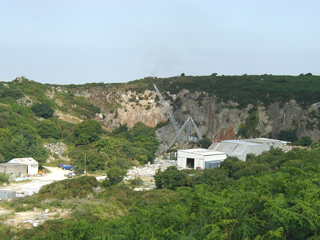 As you are walking the farm trail you will have clear views of two granite quarries, first you will come across the De Lank quarry which runs from the farm boundary fence steeply down into the working area below ~ occasionally sheep will break through the fence and have to be retrieved on foot from the quarry, this can be a tricky task as the area is infested with adders !
Further in the distance you can see Hantergantick quarry which is now disused. Both quarries are owned by Ennstone Breedon Ltd and 545 blocks of De Lank granite has recently been used in the construction of the Diana, Princess of Wales Memorial Fountain in Hyde Park to add to the long list of historical landmarks constructed from this unique silver grey granite
The De Lank Quarry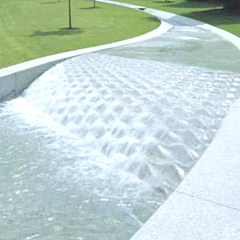 Moorland Granite has been used for centuries, locally to build houses and churches the surrounding villages and farms hold plenty of evidence of the extraction of granite from this quarry for these purposes. There are no records of when the De Lank quarry began commercially extracting the granite.
The quarry utilised water from the De Lank river to drive the turbine powering an enormous compressor engine, at the time it was reputed to be one of the finest turbines in the UK
The Granite was transported using the local Railway from its station at Wenford, this formed part of the Great Western Railway, the Granite was then shipped from ports at Padstow and WadeBridge to its destinations all over England.
Granite from the De Lank Quarry was used for important and famous landmarks ~ The Eddystone LightHouse 1882, the Beachy Head Lighthouse 1900 and Tower Bridge 1890. During this time the quarry was very prosperous and employed nearly 100 local men and women
During the 1st world War trade slackened, and the majority of the work came from making grave stones and street curbs. After the War demand for the stone became poor and the quarry began running at a loss and was eventually sold
After the 2nd World War, cheap concrete was used for building purposes and work again slackened, despite this De Lank granite was used to construct the Karl Marx memorial 1956, the Magna Carta memorial at Runneymede 1957, a granite statue of Lord Baden-Powell 1958 and Granite from the quarry was used to build the Tamar Road Bridge
In the 60's the quarry work flourished again and by the 1980's up to 2500 tonnes of finished stone per year was being produced and shipped world-wide
Hantergantick Quarry
Hantergantick quarry was started in 1918 by a local man, Harry May who had been invalided out of the Army after an accident. while working in Birmingham he met people who gave him £100 worth of orders for gravestones made from Cornish granite, he made these from his cottage in the village of St Breward. He worked at De Lank quarry and theory that the line of granite extended further up the valley, this was confirmed by his 'gift' of Dowsing. He bought the land and quarrying rights and started what began as a small business producing gravestones and crosses. Stone was used for building the harbour walls at Padstow and Port Issac but the majority of the orders came from cemeteries both in England and overseas
The quarry changed hands many times throughout its history and was modernised with up to date machinery including a 120 ft crane, purchased in 1962, which can be seen from the farm walk
Major projects using the granite include the stock exchange, the South Bank river wall and the London Bridge. At the moment however the quarry is unused and has filled with water