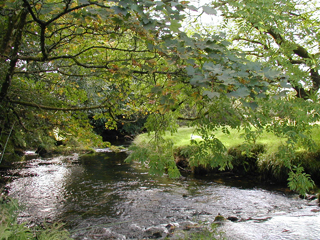 Open for fishing from 1st April – 30th September, this is a stunning section of the river. It changes from a placid moorland stream at the top of the beat to a wild rushing torrent at the lower end as it falls of the moor. Due to a unique barrier at the lower end of the beat it only holds brown trout. It is slow to start in the spring but from May onwards fishes well for lots of small – medium fish with the odd 2lb whopper!
Here's what one fishing journalist wrote after a day spent on our river for the February 2006 edition of Today's flyfisher
"…an afternoon of pure fun. We were grown men falling in ditches and getting the soaking of our lives while cursing about missing yet another four-inch brownie. It was like being five years old again and EXACTLY what fly fishing should be. When it finally reached the point of near darkness, we literally had to drag each other off the river."
Access to fish is via the West Country Rivers Fish Pass scheme. You can but tokens to fish via their mobile app which will also give you access to many other informal fishing beats in the area.