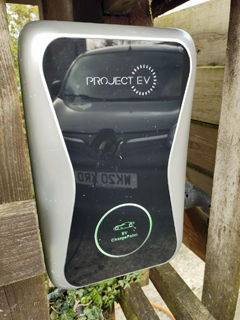 New for 2022. We now have three EV charging points for our campers and glampers to use while they are here. They are all 3.5KW charging points and as with the rest of the farm are entirely supplied with renewable energy.
We have also added an additional 28KW of solar panels to the roof of the play barn with a battery set up which will mean that some of the electricity you use to charge your EV or Plug-In Hybrid will be generated on site.
Simply plug in your car and make a note of the charger number and you can pay at reception. We are currently charging 75p per Kw.