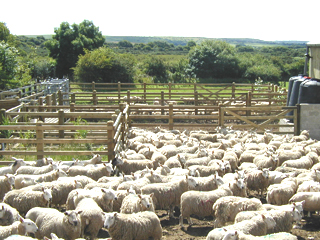 Our Livestock
"...meet the animals..."
At any one time during the farming year at South Penquite there are likely to be the following animals,

100 Cheviot Ewes (with or without their 100 odd lambs)
80 Ewe Lamb/Mutton (next years ewes/dinner)
3 Rams (lucky boys)
10 Galloway Cows (usually with calves)
10 Heifers (stropy teenagers)
1 Bull (please call him sir)
5 Horses & Poinies
Assorted Chickens, Ducks, Geese & Turkeys (usually roaming around the yard)
---
Cheviot sheep
The Cheviot originated in the Cheviot Hills, on the border of England and Scotland. Bred to look after themselves, Cheviots need less husbandry. Their ease of lambing and strong mothering instinct means fewer lambing problems. Hard black feet make them less prone to foot rot. Their tendency for worm resistance means less drenching, less crutching and less fly strike.
The Cheviot lambs are very lively and soon after birth are up and running around and able to withstand severe bouts of wind and rain. These sheep are also very pretty and produce an excellent carcass of meat.
We then cross these excellent native hill mothers with New Zealand Romney rams which have been bred up from the orignal Kent breed to produce a very easy care sheep with an exceptionally fine quality of wool.
Cornish Organic Wool

Wool from our very own sheep at South Penquite available online from this web site run by Knitwits of Penzance
---
Galloway cows
The Galloway is a very ancient breed - its name is taken from the south west region of Scotland. They have a very long shaggy coat which serves a dual purpose, the coarse outer coat sheds wind and rain, while the soft, fur-like under coat provides insulation and waterproofing making ideal protection against long cold wet winters.
Although not the most commercial of todays cattle the Galloways nevertheless have several good points in their favor. As well as being extremely hardy they are easy to calf and make exceptionally good mothers. They thrive on grass alone and the meat they produce is very tender.
We then cross these noble beasts with a North Devon bull. This local breed is famous for its fine quality of meat and ability to fatten easily on grass alone.