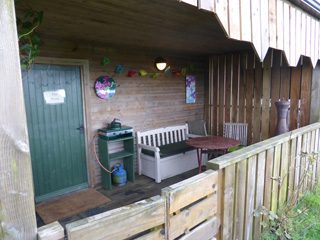 Bunkhouse accommodation
"...open all year..."
We have three seperate units of bunkhouse type accommodation that can cater for up to a maximun of fourteen people. These are available all year round with a wide range of booking options to suit families, groups or individuals. All the bunks are provided with a clean sheet, pillow and pillow case - all you will need to bring is a duvet or sleeping bag and your own towels.
The Bunkhouse: Our main bunkhouse consist of a fully fitted kitchen, sitting room with log burning stove, dinning room with large screen TV/DVD and shower room with loo. There is also a secure bedroom which can sleep up to six with one double bed and four single bunks. This is only bookable as a complete unit.

Whole Unit
Per Night
1 night
Per Night
2 or more
01/01/2017
30/06/2017
£80.00
£70.00
01/07/2017
31/08/2017
£100.00
£90.00
01/09/2017
31/12/2017
£80.00
£70.00
Please note that all bunkhouse type bookings will also attract a £10 cleaning/breakages deposit per person which will be refunded to your card as long as the bed is vacated by 11 am on the day of departure with your bed stripped of its sheet and all other facilities cleaned
The Snug: Located in the camping fields you can book the snug by the bed or complete unit. It can sleep up to six with one double bed and four single bunks. You can either book the entire unit or if you are happy to share you can book per bed. The room is heated and has its own veranda and will be ideal for cyclist of hikers. There is a camping stove on the veranda and of course full use of the campsite showers and loos which are nearby.

Per Bed
Per Night
1 night
Per Night
2 or more
31/03/2017
30/06/2017
£15.00
£12.50
01/07/2017
31/08/2017
£20.00
£15.00
01/09/2017
31/10/2017
£15.00
£12.50
Whole Unit
Per Night
1 night
Per Night
2 or more
31/03/2017
30/06/2017
£60.00
£50.00
01/07/2017
31/08/2017
£80.00
£70.00
01/09/2017
31/10/2017
£60.00
£50.00
Please note that all bunkhouse type bookings will also attract a £10 cleaning/breakages deposit per person which will be refunded to your card as long as the bed is vacated by 11 am on the day of departure with your bed stripped of its sheet and all other facilities cleaned
The Pod: Tucked away this fully insulated modern pod can sleep one or two people in complete privacy and is only available to book as a unit. There are no cooking facilities but there is easy access to the campsite showers and loos nearby.

Whole Unit
Per Night
1 night
Per Night
2 or more
31/03/2017
30/06/2017
£40.00
£30.00
01/07/2017
31/08/2017
£50.00
£40.00
01/09/2017
31/10/2017
£40.00
£30.00
Please note that all bunkhouse type bookings will also attract a £10 cleaning/breakages deposit per person which will be refunded to your card as long as the bed is vacated by 11 am on the day of departure with your bed stripped of its sheet and all other facilities cleaned
Availability & Book Online
| | |
| --- | --- |
| Accommodation Type | |
| Arrival Date | |
| Length Of Stay | |
| | |